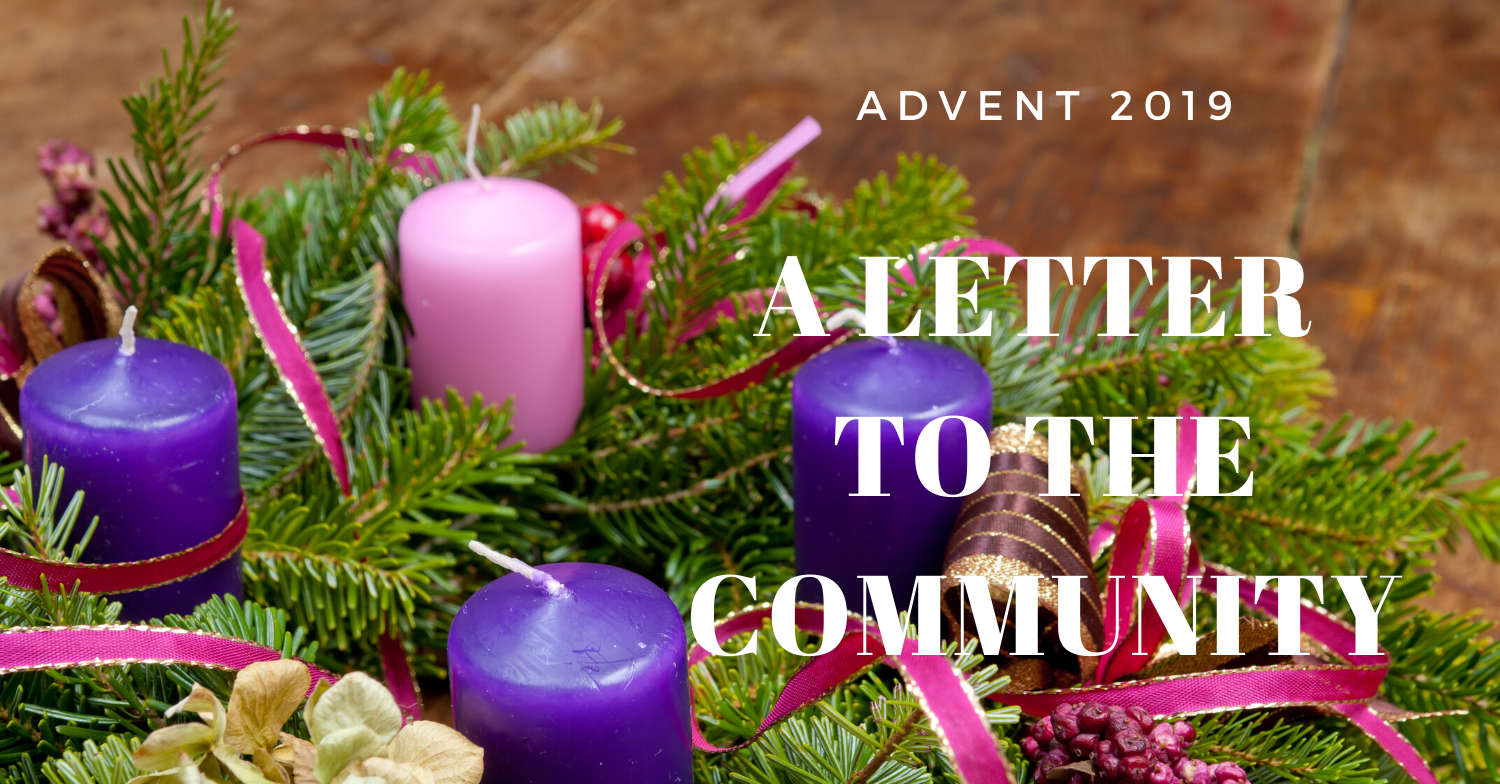 "The Word became flesh and blood, and moved into the neighbourhood"
John 1:14*
Friends,
The season we are walking into brings with it many exciting opportunities to celebrate and be festive. From the trees which decorate our houses, to the gifts under it, the friends, family, meals, and traditions which make this time of year so special. As the world around us grows dark, we add lights and festive merriment to the longer evenings which bring us into community around a table once again. Our lives become busy with entertaining and details which will hopefully make this the best Christmas yet! Despite all my best planning, Christmas is never what I planned it to be, yet it still happens. Something that the passage which opened our letter talks to us about.
In the prologue to John's Gospel, we hear the refrain to God's words in Genesis. Unlike Genesis, where God spoke and creation was revealed, in John God speaks and the salvation of creation breaths, Christ breaths from the manger into a world not totally aware of the impacts this moment would have on it. This parallel reveals to us what it is at the heart of this season, indeed of this life grounded in the Gospel of Christ: community in Christ. God creates the world for us, for us to be united together to build community, to prosper and to come to know God in the intimacy of our everyday lives. At Christmas, God goes further, and breaths salvation into their creation, which calls together the most unlikely of people into community, a community that changes the world.
The disarming reality of Christmas is that God does not call the perfect, God perfects the called. The folks who show up to the manger are the outcasts, the broken, the alone: we are those who are called- called to tell the world the Good News. However before we move towards the manger, we sit in the warm, rich, darkness of Advent- etched with light, hearing the stories of prophecy, doubt, joy, and hope- all reminders of the human aspect of what Advent opens for us. Our time in the darkness prepares us to see anew the face of love made flesh in Christ, and to share that joy with the whole world- a world so desperately in need of Good News today.
As you come to the manger again this Christmas, I invite you to continue supporting, with the enclosed offering envelope, our ministry of forming missional disciples that seek and share the light of Christ in our neighbourhood, with all people.
Ero Cras**,
Alex+
*Peterson, E. H. "The Message: The Bible in Contemporary Language." 2002: NavPress, USA
**Ero Cras: Latin for "Tomorrow I Come" referring to the promised Jesus.These advent promises are the names we associate with Christ, which make up the "O- Antiphons," sung in the seven days before Christmas, preparing us for what is about to come.