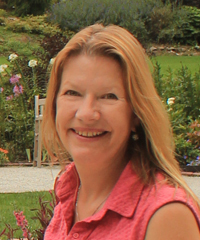 Peg Gabor began attending St. Anselm's in 2006, shortly after moving to Vancouver from the eastern US. She immediately felt at home, drawn in by the friendly and welcoming people and diversity of the congregation. She has served as Rector's Warden, on Parish Council, and in many other ministries including our Neighbourhood Ministry to the Homeless, choir and Messy Church, and has attended Diocesan events including our Annual Synod and Leadership Development School.
Peg donates her professional graphic design & marketing experience to help improve our visibility in the community, including improved signage and publicity for events like our Spiritus Concert Series. She was part of the team that created and constantly updates our website.
Peg says, "During my time at St. Anselm's, I have been blessed with opportunities to grow, both in my faith and personal development, through small classes, large diocesan events, and one-on one encounters like our work with our homeless neighbours. As a parish leader, I feel it is my job to listen, encourage teamwork and empower others on their own journey of faith and discipleship. I love the inclusiveness, family feeling and beautiful setting of 'the friendly little church in the woods'. I am excited to see what lies ahead for us."