Parish Ministries
Parish Ministries
Parish Ministries
Parish Ministries
Worship: Traditional and contemporary music and liturgies centered in the sacraments and preaching bring us together each Sunday. By bringing our gifts and sharing in the ministries of the parish we feel nourished and sustained. For more information on how you can be involved in worship please contact: Rev. Alex Wilson.
Sanctuary Guild: Members of the Sanctuary Guild prepare the sanctuary each week and arrange flowers. The Guild welcomes new members. Contact: Rosemary Schipizky
Greeters: Greeting and making visitors and new members feel at home. Contact: Shirin Theophilus
Hospitality: Coffee/tea hour after the 10:30am service, parish dinners, fund raising events, special church celebrations, pot luck dinners are opportunities to share refreshments and form friendships.
Communication: A website, social media, newspaper ads, signs and posters are used to inform the parish & neighbourhood about events at St. Anselm's.Contact: Peg Gabor
Prayer Ministry: If you or a loved one are ill, facing adversity, or going into hospital and would like a visit from the clergy, please contact: Rev. Alex Wilson to arrange the visit.
Upcoming Events
---
Sunday Worship
Sunday, October 29, 2017 & other dates
5210 University Blvd
10:30AM
News
---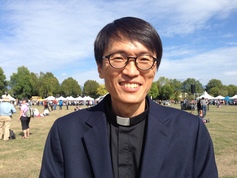 By the grace of God, and after a period of prayerful interview's, I am happy to share that on the unanimous recommendation of our Canonical Committee, Bishop Skelton has appointed Hyok Kim Curate to St. Anselm's... Read More